RTCCD has since become a think tank that conducts policy-oriented research on health and poverty as well as provides an independent voice for advocating participatory community development in Vietnam.
Establishment of RTCCD
The Research and Training Center for Community Development (RTCCD) was established in May 1996 by a group of local researchers. It was created to facilitate the investigation of practical and effective approaches to minimize poverty and disadvantage in Vietnam.
The Center has since become a think tank that conducts policy-oriented research on health and poverty as well as provides an independent voice for advocating participatory community development in Vietnam.
RTCCD aims to increase the capacity and quality of human resources at the grass-roots level by implementing activities that assist people in carrying out their own active research, as well as providing training to support community participation in developmental projects.
Think Tank model of RTCCD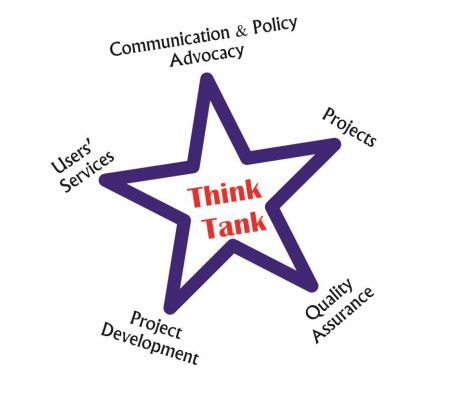 Summary of RTCCD Expertise
Policy advocacy: RTCCD has broad and profound partnerships with the National Assembly, Ministry of Health (MOH), Ministry of Labor, Invalid and Social Affairs (MOLISA), Ministry of Education and Training (MOET) and health-related government agencies. Mental health, child protection and social work are examples of RTCCD successes in bringing forgotten public health issues to the public and gaining concerns, and financial and technical inputs for the issues nationwide. RTCCD is also joining the Think Tank group to deliver public health messages to the National Assembly and other top high-ranking policymakers. For the last 5 years, RTCCD has been participating broadly in global and local networks and also playing an important role as a founder and coordinator of the national network including EBHPD, Vn-BAN, NCDs-VN, and engaging in international health networks including A-BAN, SEATCA, IJPE-SE, etc. In addition, RTCCD has significant contribution to the revision of Child Law 2016 to amend Foster Care into the new Law which is considered an achievement in policy advocacy.
Research on health system development: Since its establishment, RTCCD has been focusing on health system development research. The efforts include research on public health staff training, nursing education, health public expenditure and poverty, anti-corruption in the health sector, and health quality and utilization. So far RTCCD is the information resource for policymakers in terms of the policy brief provision and commentary feedback on national strategies in relation to the health system.
Randomized Control Trials and Longitudinal Studies: With stable full-time human resources and a strong capacity for research design and analysis, RTCCD has worked as the principal investigator of four trials/longitudinal studies in the past ten years. Those included the international Young Lives project (2001-2005), Linkage project (Nutrition), Iron/multivitamin supplementation trial (2010-2012), Anemia control trial (2003-2005)
Mental health services: This is the key expertise of RTCCD. The organization is an accredited institution in providing training on, research in, and community interventions for upgrading mental health care and prevention in Vietnam. We work toward integrating mental health care into the primary mental health system in Vietnam. In addition, RTCCD provides outpatient mental health care services through its TuNa clinic. RTCCD has also been a host of various national and international mental health workshops and conferences since 2005.
Maternal and child health services: RTCCD focuses on building capacity for primary health workers. Our efforts are given to training health staffs of district hospitals and commune health stations of IMCI, Paediatric Life Support, Neonatal Resuscitation and Essential Newborn Care, clean delivery; and community-based IEC to create a supportive environment for pregnant mothers before, during and after delivery.
Environmental health: In terms of environmental hazards affecting human health and pollution, since 2014, RTCCD is a leading organization working on an asbestos ban campaign; also RTCCD has been strongly opposing the use of genetically modified food and agricultural chemicals. RTCCD is a representative of the Vietnamese CSOs coalition attending Trip-COP 2015 in Geneva and accompanying delegates from the Vietnam National Assembly to attend the Rotterdam Convention. In 2016, RTCCD is planning to do further policy advocacy on Paraquat reduction and ban in Vietnam and air pollution control in the context of non-communicable disease prevention.
Social work: RTCCD is the leading organization among CSOs to conduct short-term pieces of training on social work professional development in collaboration with MOLISA and HealthRight International. RTCCD has directly coordinated the development and implementation of social work services on child protection, particularly foster care practice targeting social work agencies and universities in Vietnam. In 2017, RTCCD and HealthRight International and MOLISA intend to implement pilot models on foster care in selected provinces in Vietnam.
North-West University: Since 9/2015, RTCCD has been a technical support centre to assist North-West University (Son La province) in the establishment of the Faculty of Medicine and Pharmacy and plans for a 10-year period to develop a Community Doctor speciality.
Health insurance reform: Currently, RTCCD is advocating for an Essential Health package covered by health insurance in Vietnam. From 2015 to 2018, RTCCD is assigned by MoH to develop a primary preventive health package. In 2016, RTCCD will be implementing a study on enhancing the governance of immunization to provide a basis for immunization law.
For a short video representing some brief of RTCCD's activities, click here
For more information about our activity review, Click Here