Book "Raising children without pressure" focusing on the first 1000 days of life for children who are pregnant and raising children from 0 to 24 months of age. This is a series of books dedicated to obstetrics, pediatrics, nutrition, and psychology to write and update the latest scientific knowledge about comprehensive child care and development.
The book was developed in the framework of the project "The first 1000-day club" by the Center for Community Development Research and Training (RTCCD), Monash University (Australia). Ministry of Health, Green Pine Clinic and experts from Institutes and Hospitals providing technical assistance.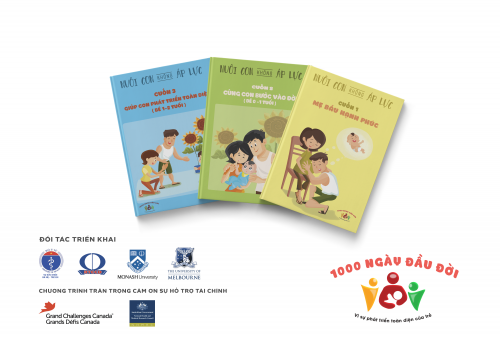 The book set consists of 3 books with the following contents:
Book 1- MOTHER OF HANH PHUC: for the family during pregnancy. How does the fetus develop in each period? In what stage does the fetus know how to listen and look? What should parents do to stimulate the baby to grow from the womb? How to reduce morning sickness? What should be noted during pregnancy and medication? What items should be prepared for the birth? During childbirth, the doctor's examination process and postpartum doctor's tests with the mother and baby? What are the signs of good growth in the mother and baby after birth? What are the signs of danger? Call for help? How can anxiety in the mother during pregnancy be transmitted through the placenta and affect the fetus? Depression during pregnancy and the role of the father in caring for mother and baby? Parents will find the answer through explanations of why scientifically.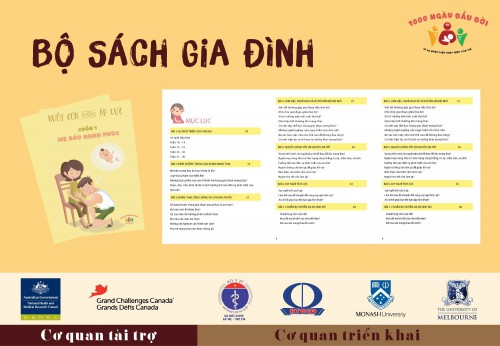 Book 2 – WITH THE STEP OF THE LIFE (Baby 0-1 years old). The book focuses on relieving parents' concerns in taking care of babies after birth. How much sleep do children have? Do parents know the different needs they show through crying? How to eat traditional, French-style Japanese? What is a good and bad snack for a commander? Basic knowledge about vaccination and danger signs parents should keep in mind with each injection compared? Which sign shows that your baby is developing normally, which signs to warn him that he should be seen right away for timely intervention? What games help stimulate your baby's development? How is postpartum depression in the mother and prevention? And especially, the role of the father in caring and raising children. What do you learn from father?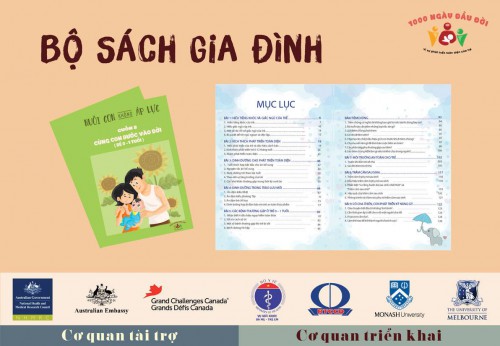 Book 3 – HELP CHILD COMPREHENSIVE DEVELOPMENT (1-2-year-old baby): This book is a revolution for Vietnamese parents' parenting movement, written from a scientific perspective, combined with sharing from the experience of clinical examination and parent consultation of doctors. Book 3 provides parents and grandparents with an understanding of children's developmental milestones and danger warning signs; games that help stimulate intellectual development – emotions – language – communication – movement in children, secrets to help children eat well and variety; rules to be a wise parent and say how to listen to children. Perhaps for the first time, a book mentions how to train maids and grandparents to coordinate child care and replace parents to care for children while working, to ensure a safe environment and help children learn. Play-play and learn. In addition, new knowledge about the prevention of child violence and abuse shared by doctors and educators will help parents become more sensitive in their decisions to send children, observe children and support them. Preparing for children to become familiar with preschool and learning basic knowledge about first aid is the content parents must know, for their children's life and safety.
After publishing, the book is widely welcomed and responded by parents because the knowledge in the book is not only full but also easy to remember and practice. The beautiful and important color print book is the practical knowledge placed in the context of Vietnam, in the health and education platform in Vietnam, so the relevance of the advice given is feasible.
Some comments of mothers after reading the book
The authors want to bring real values to the community, help Vietnamese parents understand, do right and do early activities to help them develop comprehensively because a younger generation of Vietnamese is smarter and more affable. thanks, taller and more independent in development.
We are looking forward to the help of health workers, mother and baby businesses, parents and community support to bring the book to the hands of grandparents and parents. The sale of books 1-2-3 will be used to develop book 4 (taking care of a 3-5-year-old baby) and aiming to develop the fifth book (6-11 years old) and book 6 (12-18 year old).
We would like to send you the love and enthusiasm of the doctors!
Interested in the book, please contact us to order:
Green Pine Clinic:
Phone Number: (024)36.28.5656 – 0944.28.5656
Fb: pkcaythongxanh       www.phongkhkamcaythongxanh.org.vn
TutiCare system
TutiCare chain stores nationwide
Mothers in Hanoi area go directly to 156 Thai Ha, for the province, the system has ship COD
Shop Round Square
Phone Number: 024 3646 3292
173 Vinh Hung, Hoang Mai, Ha Noi
Collaboration to spread value to the community:
MSc. Tran Thi Thu Ha
Author of the idea of ​​books and clubs 1000 days of life
Vice director of RTCCD center
CEO of Green Pine clinic